This page is to EMPOWER the human-being, to bring awareness to the Constitution Act 1867 to 1982, the Canadian Charter of Rights and Freedoms, to bring news and education from sources that are not owned or influenced by the powers that be (the elite), information about the covid, vaccine and Mandatory vaccine passports and now boosters and any other information we feel is pertinent.
Below is 2 links, one for the Constitution Act and the other for the Charter. These links will take you to the actual Act and Charter that you can print it out and store it on a external drive or stick for your reference in future.
Canadian Charter of Rights and Freedoms
I visited with my daughter a few days ago and when I left her home I knew I had to create a platform to share information on what is happening today September 2021. We are in an unprecedented time where our fundamental rights as human-beings are being ignored and compromised.
When the government thinks that it can bully human-beings with threatening our inherent rights, services and our way of life to survive this is when WE MUST STEP UP even if we are afraid.
Tanya Gaw started Action4Canada last year when she realized there was something very very wrong. She teamed up with Rocco Galati a prominent Constitutional lawyer from The Constitutional Rights Center (CRC)and have now filed a Statement of Claim of almost 400 pages against the Federal & BC Government. Just scroll down to 31 on the Statement of Claim link above and click on that and it will download the claim to your phone or computer.
NON Maskers denied entry and service
Who Can Help?
Free human rights legal clinic:
If you live outside of Victoria and need free legal assistance regarding human rights or help filling out your complaint form contact: The BC Human Rights Clinic 604-622-1100.
Web: https://bchrc.net/ General Inquires: infobchrc@clasbc.net
Access/Pro Bono Society of BC (APB):
APB's Lawyer Referral Service helps British Columbians of any income to find a suitable lawyer to
serve their legal needs. Any member of the public may call the Lawyer Referral Service to obtain
the contact information of a lawyer who will offer a free half-hour legal consultation.
604-687-3221 or 1-800-663-1919
http://probononet.bc.ca/ email: lawyerreferral@accessprobono.ca
Sources of general rights information:
Vancouver Island Human Rights Coalition: (250) 382-3012 Fax: (250) 380-7311.
Hours: 10am – 2pm Monday to Thursday
https://vihrc.com Email: contactvihrc@gmail.com
The BC Public Interest Advocacy Centre – inquire whether they can assist you:
604-687-3063 http://bcpiac.com Email: support@bcpiac.com
If you have been denied service to an individual due to not wearing a mask, businesses could be held liable for up to $75,000 (varies by province).
Further, no one has the right to request you show them your medical exemption, this is a violation of the Federal Privacy Act. Your private medical information is between you and your physician.
A business is not "private." When a business obtains a business license they are open to the "public" and they are not permitted to discriminate against anyone who is exempt from wearing a mask (this includes anyone with a psychological, behavioural or health condition, or a physical, cognitive or mental impairment). If you fit this category, you qualify for exemption.
Businesses are not being paid by the government to police citizens and they have no authority to do so. Masks are not legislated in Canada. There is no law stating you must wear a mask. They cannot make it a law…to do so would be illegal by nature as any just law cannot supersede the Canadian Charter of Rights and Constitutional protections. (Taken from the below website)
To file a human rights complaint with respect to being denied access into a place of business who has a business license click on the link above in this paragraph.
WHAT TO say to the business owner/manager "if you are denying me access to your public business because I cannot wear a mask as I am exempt I will file a complaint to the Human Rights Commissioner who will serve you as this is a violation of my human rights and you will have to answer to these charges because this is a legal proceeding. You can be sued for up $75,000 shall I proceed?"
BC Human Rights Clinic We provide free legal services to people who need help with a provincial human rights complaint.
We deal with human rights complaints in BC.
Please educate yourself and realize that there are laws written within our jurisdiction to protect our human rights as human beings, familiarize yourself with the Emergencies Act below
Emergencies Act (R.S.C., 1985, c. 22 (4th Supp.))
AND IT STATES as the Preamble, please see bold section as this is particularly important
Preamble
WHEREAS the safety and security of the individual, the protection of the values of the body politic and the preservation of the sovereignty, security and territorial integrity of the state are fundamental obligations of government;
AND WHEREAS the fulfilment of those obligations in Canada may be seriously threatened by a national emergency and, in order to ensure safety and security during such an emergency, the Governor in Council should be authorized, subject to the supervision of Parliament, to take special temporary measures that may not be appropriate in normal times;
AND WHEREAS the Governor in Council, in taking such special temporary measures, would be subject to the Canadian Charter of Rights and Freedoms and the Canadian Bill of Rights and must have regard to the International Covenant on Civil and Political Rights, particularly with respect to those fundamental rights that are not to be limited or abridged even in a national emergency;
Canadian Bill of Rights click on this link to read, familiarize and print this for your records.
International Covenant on Civil and Political Rights click on this link to read, familiarize and print this for your records.
Here is a video of a fellow who spoke with evidence to support the knowingly violation of our fundamental rights and should send those involved to prison.
BC Ferries will not require a vaccine passport to be shown to travel as they are considered Essential Service. Click on the link to read their policies and rules.
Below is an article put out by the Peninsula News Review about the Passports not being needed to travel on BC Ferries as this is an Essential Service.
VOTERS
Important Note: Masks are not legislated in Canada because it is in violation of your Charter Rights. So when you head to the polls and anyone attempts to prohibit you from voting because you are not wearing a mask, advise them that they are in violation of Section 142 of the Canada Elections Act.
Admitting Voters:
Electors not to be impeded
142 An election officer who is assigned to the polling station shall ensure that every elector is admitted into the polling station and that the electors are not disturbed when they are in or near the polling station.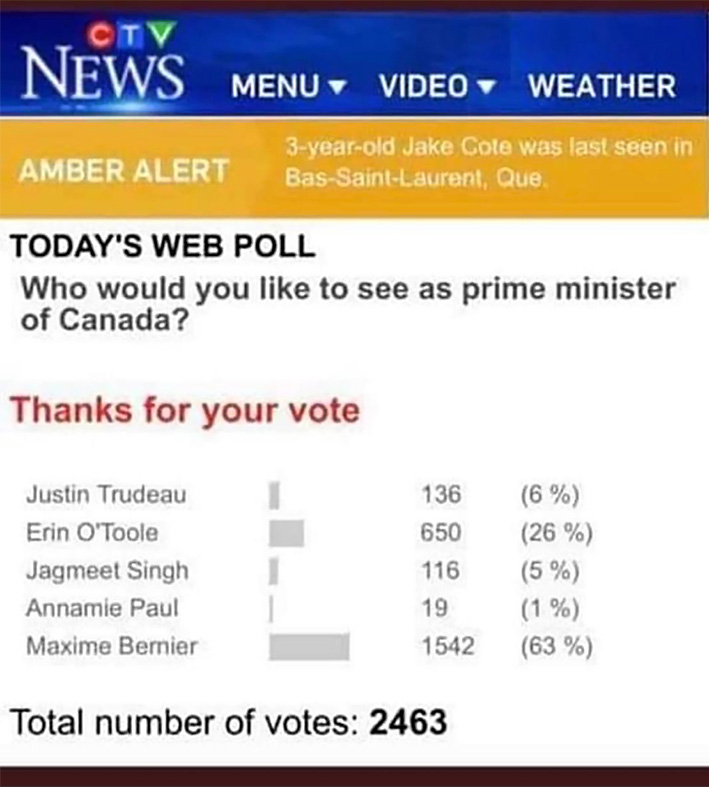 The following is of interest. CTV News conducted a poll recently asking, "Who would you like to see as Prime Minister?"
Due to the overwhelming support for Maxime Bernier, leader of the PPC, CTV quickly removed the poll but not before a viewer could capture a screen shot.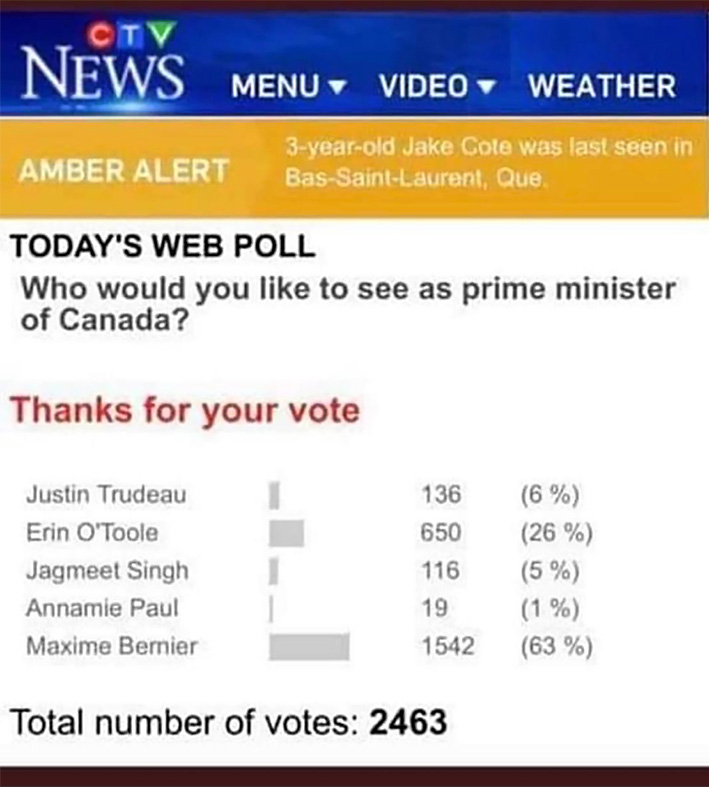 ALL INFORMATION PAST HERE I am still researching
Ending Privledge
Plan 201
The WORLD at Risk
Event 201 they new 12 months in advance… why didn't they do something
CLADEX
5 months prior to the pandemic.
Rockefeller Produced Scenarios for the Future of Technology and International Development
p.18
World Health Organization (WHO)
Meet the man who sold his soul to Bill Gates – Dr Tedros Adhanom; from mass sterilisation campaigns to head of the WHO
BY DAILY EXPOSE ON
TEDROS ADHANOM from Ethiopia HEAD GUY AT WHO
click the link above and read about who this man really is.
TAKING ACTION how to fill out a Notice of Liability to stand up for your rights if you choose to not vaccinate and they threaten you will lose your job.
Exemption Letter & Notices of Liability
Business, Mask, Jab, PCR Testing, etc (see the link below)
TAKEN FROM THE ACTION4CANADA.COM website
Freedom and Rights Notice
Sign and send the Declaration advising the Premier and Provincial Health Officer that Pastors, Religious leaders and congregants will no longer comply with Orders that are unlawful, irrational, discriminatory and in violation of the Constitution and Charter of Rights and Freedoms. Printable PDFProvincial Email Contact Lists:Health Officers: https://action4canada.com/provincial-territorial-health-officers/Premiers: https://action4canada.com/premiers/
Attention: Provincial/Territorial Health Officer
This letter is in response to orders suspending religious gatherings, based on the claim that we are experiencing a "public health emergency." There is no evidence to substantiate this claim. In fact, the evidence indicates that we are experiencing a rate of infection consistent with a normal influenza season.
JCCF report … "71 per cent of Canada's 11,344 deaths are over the age of 80. A further 18.4 per cent are between 70 and 79, and a further 7.3 per cent are between 60 and 69 years of age. Only 3.3 per cent of deaths are amongst those under 60…. "which is 374 people in a population of 37.5 million." The majority of deaths are related to comorbidities.
The purported increase in "cases" is a direct consequence of increased testing through the inappropriate use of the PCR instrument to diagnose COVID-19. It is well established that the PCR test was never designed, or intended, as a diagnostic tool and the current utilization, set at higher amplifications, is producing up to 97% false positives. The PCR device is not an acceptable instrument to measure this so called pandemic and any emergency measures imposed that are based on PCR testing is unwarranted, unscientific, and quite possibly fraudulent if the medical person is familiar with the advice of the inventor of the test and some of the manufacturers of the device.
An international consortium of life-science scientists has detected 10 major scientific flaws at the molecular and methodological level in a peer review of the RTPCR test to detect SARS-CoV-2. Furthermore, a Portuguese court has ruled that PCR tests are unreliable.
As the PCR device has not proven to be an acceptable instrument to measure this so-called pandemic, any emergency measures that are based on PCR testing are unscientific and therefore unwarranted.
Additionally, provincial/territorial health orders arbitrarily dictate who can, and cannot, be open for business. Costco and liquor stores are open while churches have been forced to close. This is discriminatory, illogical, and unlawful.
The church will only be lawfully compelled to comply if the evidence and Orders are shown to be consistent, rational, lawful, in accordance with, and provide a statement of the facts known necessary to constitute an official emergency. The Health Orders are in violation of Section 2(a)(c)(d), 7, 8, 9, and 15 of the Charter of Rights and Freedoms.
The Federal Emergency Act preamble states clearly that emergency orders cannot, and do not, supersede the Charter of Rights and Freedoms and the Canadian Bill of Rights. Provincial Acts can do no less.
AND WHEREAS the Governor in Council, in taking such special temporary measures, would be subject to the Canadian Charter of Rights and Freedoms and the Canadian Bill of Rights and must have regard to the International Covenant on Civil and Political Rights, particularly with respect to those fundamental rights that are not to be limited or abridged even in a national emergency.
As a matter of relevance on November 26, 2020, the US Supreme Court ruled against limitations of religious services due to the orders being in violation of religious freedoms as set out in their Constitution.
We are putting the PHO's office on notice that the arbitrary Health Orders do not supersede the Constitution and the Charter of Rights and Freedoms, and are an infringement of our civil liberties and, therefore, we cannot lawfully be compelled to comply with such orders.
Yours truly,